Carl Mitchell, Associate Director of Advancement
Administration
Advancement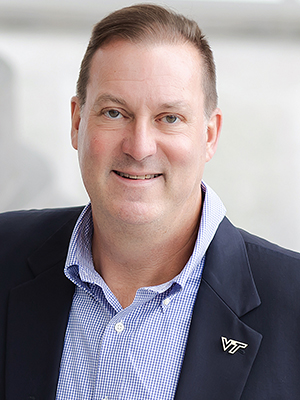 In his role of associate director of advancement, Carl Mitchell raises awareness of VTTI's capabilities and strengths while fostering industry and private partnerships with the institute that support its mission of human and economic growth. His recognized energy and enthusiasm are key to meeting industry partner needs and interests and providing them with philanthropic opportunities in furtherance of VTTI's commitment to saving lives, time, and money, and protecting the environment. For VTTI's transportation industry partners and committed individuals, Carl seeks to provide greater awareness, deeper engagement, and strategic investments to benefit the future of mobility and transportation safety.
In addition, Carl serves as associate director for business development for Virginia Tech's Link + License + Launch. Previously, he served the Virginia Tech's College of Engineering for almost a decade as senior director of major gifts.
A triple Hokie, Mitchell holds three degrees from Virginia Tech: a B.S. in animal science, a B.S. in agriculture education, and an M.S. in horticulture.
---
Contact