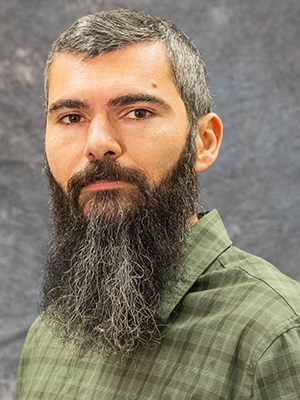 Mr. Carl Cospel is the director of the Hardware Engineering Lab for VTTI. He supervises and provides technical leadership to five groups: Mechanical Systems, Electronic Systems, Software Development, Automated Vehicle Systems, and Project Instrumentation. Mr. Cospel has a large role in the development of VTTI's data acquisition systems, connected vehicle systems, and automated vehicles and he has a solid understanding of engineering principles and experience leading large teams.
Mr. Cospel's engineering experience and job responsibilities include system design and engineering, circuit board design, firmware development, software development, and project management. He designed and helped develop VTTI's core data acquisition software, automated software, connected vehicle software, and post-processing and analytic systems. In addition, he led the design of VTTI's data acquisition and automation hardware, including a drive-by-wire system for automated vehicles.
Cospel's programming expertise includes C++ (11/14/17 .net and gnu), Java, Python, C#, ROS, OpenCV, SSL, ROS, Unity, QT, SQL, and C. He has extensive Linux experience for multiple architectures, and he has developed for many platforms including embedded Linux devices (arm and x86), PC Windows, Android, and microcontrollers (PIC, ARM). Many of his designs require interfacing with sensors and equipment (such as Lidar and Radar) on communication busses including CAN, RS232/485, SPI, I2C, Bluetooth, and Ethernet. His experience interfacing with vehicle networks includes J1850, J1850/CAN, ISO 9141, CAN-FD, FlexRay, LIN, J1708, and J1939 and his experience in V2X includes DRSC, 4G, and CV2X.
---
Contact