Gerardo Flintsch, Director
Center for Sustainable & Resilient Infrastructure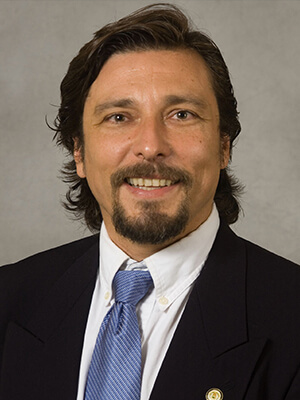 Dr. Gerardo F. Flintsch is the director of the Center for Sustainable & Resilient Infrastructure at VTTI and the Dan Pletta Professor in Virginia Tech's College of Engineering. Since the mid-1980s, he has worked in the areas of asset management, pavement engineering, and sustainability.
Dr. Flintsch's main areas of technical experience are pavement design, construction, evaluation and management, and infrastructure management. He has taught classes and workshops on pavement and infrastructure design, evaluation, and management in eleven countries and has more than 150 publications. Dr. Flintsch has also served as a consultant to several national and international organizations and has recently been inducted as a member of the National Academy of Engineering of Uruguay (NAE).
The NAE of Uruguay is a part of the International Council of Academies of Engineering and Technological Sciences, whose founders and active members include the National Academy of Engineering and the Royal Academy of Engineering of the United Kingdom. The NAE of Uruguay follows the same standards of its peers and its mission is to promote the technological welfare of the nation by marshaling the knowledge and insights of eminent members of the engineering profession.
---
Contact