Tom Dingus, VTTI Director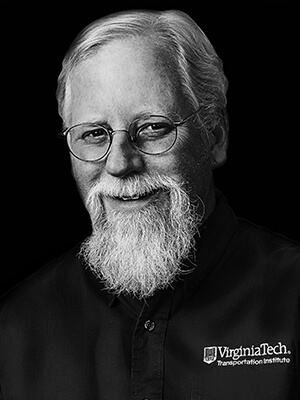 VTTI Director
Dr. Thomas A. Dingus is director of the Virginia Tech Transportation Institute (VTTI), is an endowed professor of Virginia Tech, and is the president of VTT, LLC.

Since 1996, Dr. Dingus has managed the operations and research at VTTI, which annually conducts more than $40 million in externally sponsored research expenditures and houses more than 500 faculty, staff, and students working on 300 active projects. Dr. Dingus has performed transportation safety and human factors research since 1984, focusing on automated and connected vehicles, driver distraction and attention, the safety and usability of advanced in-vehicle devices, crash avoidance countermeasures, and fatigue. He has led substantial efforts in growing Virginia as a pioneer in automated-vehicle research, with VTTI and partners creating a suite of advanced test beds—including the Virginia Automated Corridors in Northern Virginia and the Virginia Smart Roads in Blacksburg, Va.—that facilitate both public roadway and edge-and-corner (e.g., surface street, rural roads) test scenarios. The institute is also lead on a master IDIQ contract from the National Highway Traffic Safety Administration worth up to $25 million across five years to assess human factors and cybersecurity issues relative to vehicle automation.

Dr. Dingus and VTTI researchers work with private- and public-sector partners, including 14 auto manufacturers and more than 50 suppliers, to create data acquisition, advanced data analytics, and simulation methods that provide the technical foundation for the development and deployment of advanced vehicles and systems. The institute also conducts proprietary research for such industry leaders as GM and Google as a key step in advanced-vehicle development.

Dr. Dingus pioneered the naturalistic driving study research method, which involves instrumenting vehicles with unobtrusive video cameras and sophisticated instrumentation that assess crash and near-crash causation and help determine crash countermeasures. VTTI and partners recently completed the Second Strategic Highway Research Program (SHRP 2) Naturalistic Driving Study, the largest study of its kind with more than 3,500 drivers aged 16 - 98 across six data collection sites in the United States. The resulting data comprise more than 35 million miles of continuous naturalistic data and more than 2,000 verified crash events, making it the largest crash-only database. The naturalistic driving study method is now being employed at VTTI to develop advanced-vehicle simulations and to study driver behavior/performance in advanced vehicles, including automated vehicles, thereby providing a realistic understanding of human-machine interactions.

Dr. Dingus has more than 230 technical publications and has managed more than $800 million in research funding to date. He was named a White House Champion of Change in 2013 and is a Fellow of the Human Factors and Ergonomics Society, from which he has received several awards, including the A.R. Lauer Award for outstanding contributions to the field of safety. Dr. Dingus is a former board member of the Association for Unmanned Vehicle Systems International and is a current board member of the Intelligent Transportation Society of America.