Northern Virginia
The Northern Virginia test bed, located in Fairfax, Virginia encompasses a very challenging transportation environment and is one of the nation's most congested corridors. This test bed includes high-operating capacity roadways (including sections of Interstate 66, Interstate 495, U.S. 29, and U.S. 50), significant recurring congestion, numerous Virginia Top 25 crash "hot spot" locations, and a variety of existing ITS and data sources integrated throughout the CV environment.
There are currently 49 roadside units (RSUs) located throughout the Northern Virginia test bed.

- RSU location.
Virginia Smart Roads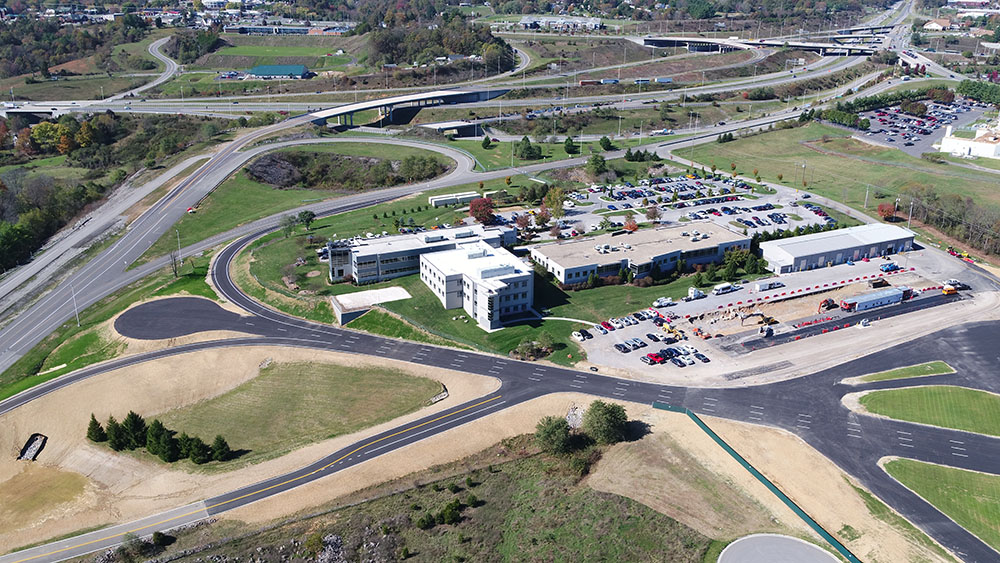 The Virginia Smart Roads in Blacksburg, Virginia provide a controlled environment that allows CV applications to be developed and proven in a safe location before deploying on public roadways. The Virginia Smart Roads consist of the original Smart Road as well as the new Surface Street Expansion and the Live Roadway Connector.
The original Smart Road, a 2.2-mile controlled-access test bed built to Federal Highway Administration (FHWA) standards, was officially opened in 2000 as a partnership between VTTI and VDOT. The Smart Road features continuous DSRC coverage, differential GPS (DGPS), weather-making capabilities, a variable highway lighting test bed, diverse pavement sections, and a signalized intersection that has facilitated over 26,000 hours of groundbreaking research.
The new Surface Street Expansion opened in 2017 and facilitates advanced/automated testing in such environments as suburban neighborhoods and city intersections. The Surface Street Expansion enhances advanced-vehicle research, design, and deployment via testing in safe, controlled residential and urban environments. It features buildings, roundabout and stop-controlled intersections, reconfigurable automation-compatible pavement markings, and roadside features (e.g., sidewalks, a bus stop, fire hydrants, light poles) that are designed to be completely reconfigurable in a short period of time, allowing users an unprecedented opportunity to study challenging transportation questions, such as pedestrian risk in urban environments.
The Live Roadway Connector links the Smart Road and new expansion projects directly to a public road, allowing users the ability to seamlessly transition between a live traffic environment and closed test tracks. The connector allows users to study such issues as driver readiness to assume vehicular control after long periods under automated mode and how drivers may occupy their time in full automation mode (e.g., reading, sleeping).
There are currently ten RSUs on the Smart Roads.

- RSU location.