Used for training and rapid prototyping purposes, the Commercial Training and Prototyping (CTAP) simulator offers many potential benefits to the commercial motor vehicle community. The simulator gives fleets and organizations the ability to provide high-quality training and allows them to prototype and evaluate systems and technologies before moving to full field testing or demonstrations. The CTAP simulator collects data using one of VTTI's proven data acquisition systems, providing sophisticated driver training feedback.
Exterior view of the CTAP simulator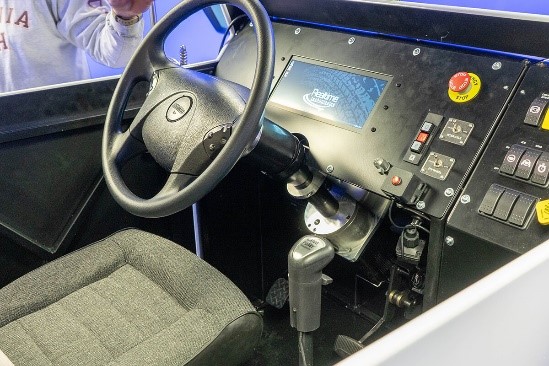 View of the CTAP simulator cab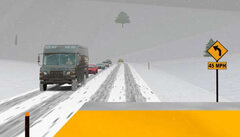 Snow, one of the programmable weather events available in the CTAP simulator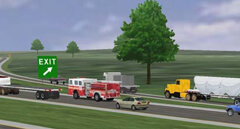 Highway driving, one of the four standard driving worlds used in the CTAP simulator
Simulator Hardware
The CTAP simulator is based on an FAAC TT-2000-V7 full-mission truck driving simulator. This simulator provides all the displays and controls typically found in a truck, including: variable resistance force-feedback steering; a motion seat with three degrees of freedom; original equipment manufacturer (OEM) functioning gauges and warning/indicator lights; an OEM accelerator, brake, and clutch pedal; and an OEM shift tower with range selector and splitter switch. The transmission may be simulated as an automatic; synchronized manual; or 9-, 10-, or 13-speed non-synchronized manual transmission.
The CTAP simulator provides a 225° seamless forward field of view, providing the simulator driver with no bars or other divisions between the forward image channels. Additionally, the simulator has two flat (West Coast) mirrors in the standard truck position to reflect the image from two 42-inch LCD screens positioned at the rear of the simulator. This provides for mirror parallax that cannot be obtained in traditional inset image simulated mirrors.
The CTAP simulator can replicate a number of vehicle configurations (including conventional and cab-over tractors along with single-unit trucks) and driving environments (including different roadway, weather, and traffic scenarios).
Data Collection Abilities
A VTTI data acquisition system is fully integrated into the CTAP simulator, allowing it to record standard driver performance metrics. Additionally, the data acquisition system collects data in the same format as those installed in actual trucks. This allows for comparisons between driver performance in the simulator and in real trucks.
Other Features
In addition to the aforementioned features, the CTAP simulator is able to use customized geo-specific driving environments. This allows drivers to experience highly accurate and detailed simulations of driving environments that are encountered in the real world. Combined with this feature is the ability to offer additional vehicle models. Buses, straight trucks, other trailer models, and emergency and military vehicles may all be developed according to client needs. Both vehicle models and geo-specific driving environments can be developed on an as-needed basis.